Professional Car Care Since 1921
Place Your Trust in a Repair Shop that Knows Your Needs
The first BOSCH Car Service was established in Hamburg, Germany in 1921
Our comprehensive range of services always offers our customers just what they need.
Our network covers all makes of vehicles and is capable of servicing all types of engines; gasoline, diesel, electric or hybrid. All BOSCH Car Service repair shops have to undergo a rigorous certification process and are committed to constantly improving quality assurance standards.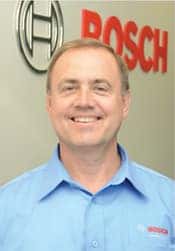 "If your car is in need of repair and you are looking for one stop that will solve your problems, BOSCH Car Service is the repair shop you are looking for.
BOSCH authorized shops have the expertise to repair anything from simple repairs to complicated diagnostics. BOSCH Car Service Technicians have the necessary training and equipment to get your car back on the road, fixed right the first time.
As complicated as cars are today, don't trust just any shop, trust BOSCH Car Service."
Mark Polke, Director Workshop Concept & Service, BOSCH Automotive Aftermarket, North America
Discover for Yourself What Makes BOSCH Car Service Different