Five Questions to Ask Your Car Mechanic that Could Save You Money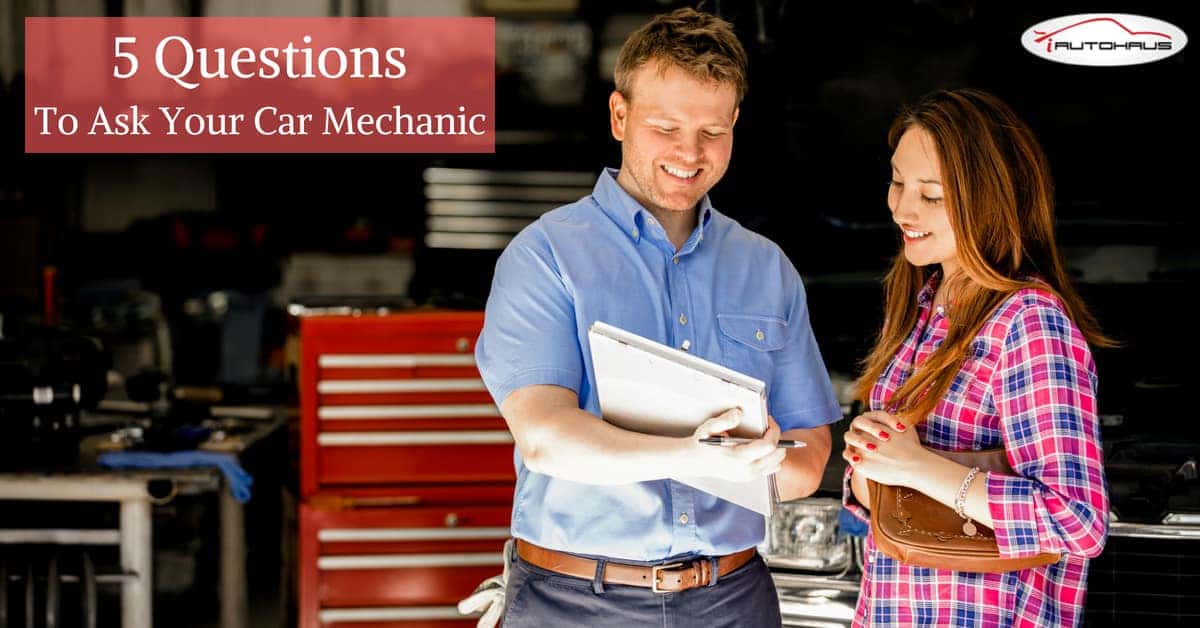 If your vehicle doesn't run, perhaps all you can think about is that you cannot go to work or pick up your children from school without it. This could cause you to make hasty choices when seeking a mechanic to help you repair your car. However, our iAUTOHAUS authorized service center in Arizona advises you to make sure you don't pay for unnecessary or unhelpful maintenance, inspections, replacements, or repairs.
In all your haste to drive again, we have prepared five of the best questions to ask your mechanic before agreeing to service. These will help you receive the service you need without feeling cheated when you receive the bill.
Question #1 – Do you work on my make and model of car?
If you have a German car such as an Audi or BMW or another European car such as the Maserati or Land Rover, you don't need a Ford or Chevrolet mechanic. You need a mechanic who works on European cars. At iAUTOHAUS we have years of experience servicing luxury European vehicles. Find out for what brands of cars a mechanic provides service before investing hundreds of dollars on futile repair attempts.
Question #2 – Will you give me a free estimate in writing?
A mechanic shop can talk the talk, but will they follow through on what they say they will do for you? A free written estimate should include every service the mechanic intends to provide, even if it's just replacing a fuel tank cap. This will also avoid surprises later when you look at the bill if you thought extras the technician performed for you were free.
Question #3 – Will you explain to me why you believe repairs are needed?
If you don't understand why the mechanic wants to perform a certain action on your car, don't allow it. Wait until you receive the explanation that satisfies you before you permit the technician to complete specific tasks.
Question #4 – Would you let me know if you find something else wrong with my car?
Our iAUTOHAUS technicians want you to stay safe on the road. Therefore, we will tell you if you have any other issues that we would recommend you have addressed before driving again. During this time, we also will explain to you why this repair might be necessary.
Question #5 – Would the auto repairs be covered by my service contract?
If you don't take advantage of your dealer service contract benefits, it's like paying twice for a service you should have only had to pay for once. Ask your mechanic if engine repairs, parts replacements, routine inspections, or other services will be covered by a contract set up by your dealer.
Contact Our iAUTOHAUS Authorized Service Center in Arizona Today
iAUTOHAUS technicians have the authorization, training, tools, and equipment to handle repair and maintenance you need for most makes and models of popular luxury vehicles in Arizona. We provide service for Audi, Porsche, Jaguar, and Maserati cars, and we work on other German and European makes and models. We also offer financing!
Please contact us if you think we can help you with battery testing and replacement, oil and lube change, exhaust system repair, or any other service. You could also inquire about your specific make and model of vehicle to confirm that we are your best mechanic resource. Give us a call today at 480-317-0783 to schedule your service.
Latest posts by iAUTOHAUS (see all)