Turbo Replacement in Arizona
iAUTOHAUS is proud of the stellar reputation that keeps so many of our customers with us for years. As the European car experts in Arizona, we service high-end vehicles such as Jaguar, Bentley, Maserati, and BMW with high-quality care and parts—at a fair price. Our ASE-certified technicians are turbo engine experts. We're here to ensure you get the performance you want, and the fuel efficiency you expect, from your turbocharged engine.
Schedule a turbo service for your luxury European vehicle in Arizona today!
Why Choose iAUTOHAUS for Turbo Replacement
We keep European cars in top condition for our customers in and around Tempe, Chandler, Gilbert, Phoenix, and Queen Creek, and Scottsdale.
We gladly offer:
Excellent customer service with complimentary shuttle;
Twelve high-tech service bays;
WiFi in our comfortable waiting room;
Turbo replacement and turbo upgrade with balancing for lasting high performance;
A 24 Month/24K-mile warranty on parts and labor, and a wash!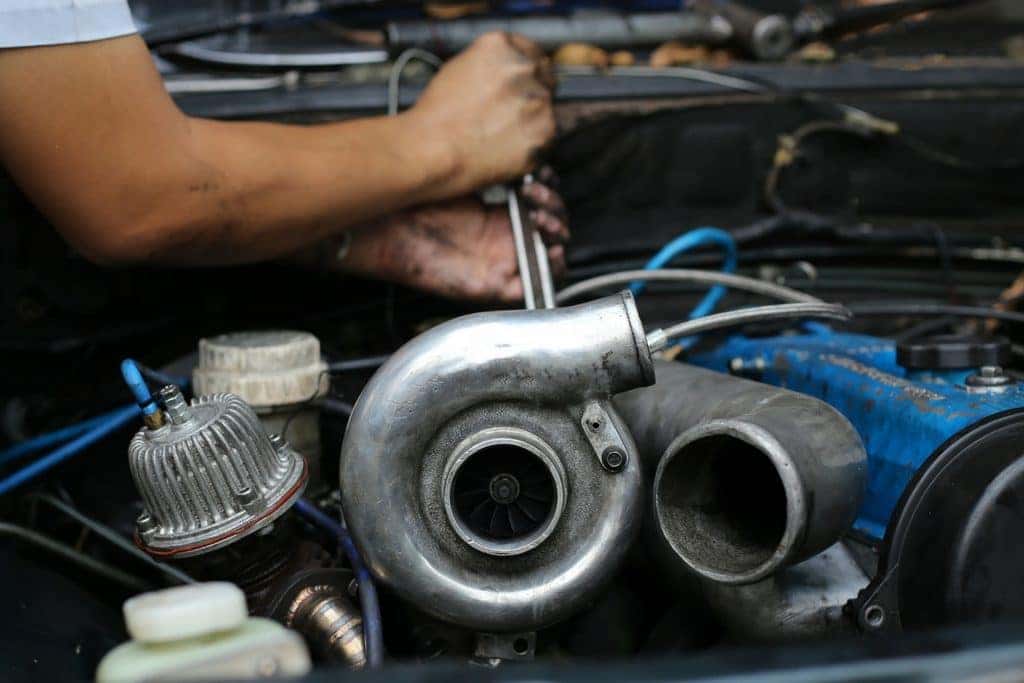 What's a Turbo?
A turbocharger uses gas forced out from the car's engine to run a turbine that then forces air back into the engine. This makes for a richer fuel mix. A turbo engine gets more bang for your gasoline buck and improves emission efficiency. European car makers have long produced diesel models. Here's the gist of it: Diesel engines don't have spark plugs; they rely on compression ignition. They need an extra boost to force air into the engine. So turbocharging is Europe's state of the art, with BMW, Audi, Porsche, and Mercedes-Benz perfecting their turbos for decades.
Does a Turbocharged Engine Require Special Maintenance?
Today's turbos don't ask for much in the way of extra maintenance. Plus, you can take extra steps to keep your car running cleanly and well:
Use full synthetic oil, to avoid carbon deposits that will compromise your turbocharger.
Change the oil and oil filter regularly to keep your turbocharger's inlets clean.
Common Turbo Problems:
We'll check for:
Leaks that can reduce the turbochargers' efficiency and power;
Fuel intake issues;
Exhaust problems such as high heat, and cracks in the exhaust end of the turbo housing that let oil seep into the exhaust system (a bluish smoke emission during acceleration is a telltale sign);
Issues with the wastegate, which redirects extra exhaust to prevent "overspeeding" of the turbine;
Normal wear and tear.
For maintenance, see our service page, often including coupons for engine needs, like oil and filter changes.
Are There Any Obvious Signs of Turbo Issues?
There are a few:
A "check engine" warning light;
A boost gauge signal (if included), or slow acceleration;
Siren-type noises, usually from the compressor wheel.
Get a Turbo Replacement in Arizona from iAUTOHAUS
iAUTOHAUS is a BOSCH Authorized Service and Repair Center in Arizona. Ongoing factory training gives our experts a reputation for excellence. Your luxury vehicle deserves quality care. At iAUTOHAUS, our expertise with European cars makes all the difference. Schedule your service today. Call 480-317-0777.